Bitkwiz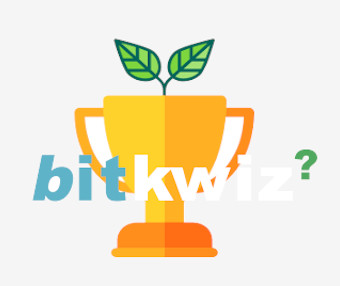 Bitkwiz
is a question and answer contest with immediate prizes in
Bitcoin
or
Ethereum
.
MECHANICAL
Answer 20 questions. You have 10 seconds for each one and there is no specific theme. You better know everything because Bitkwiz is very demanding. You will see in what position you are with respect to your opponents and what your prize is at each moment. Don't let that distract you.
WHO WINS?
You can participate in the following ways:
No prize option just by signing up, to test what it's all about and have a good time.
Betting and participating. Bitkwiz's smart contract is responsible for awarding all contestants depending on their bet, their correct answers and the amount of Bitcoin available, but remember that the first 3 win the bulk of the prize.
Just gambling. If you don't want to participate in the contest, but you like strong emotions, bet on a friend, a relative ... or someone you don't know but who has proven to be a real beast on bitkwiz. Remember, in bitkwiz everyone wins, practically all the bitcoin accumulated in the contract returns as prizes.
THE CONTRACT
In bitkwiz there is no human intervention. That means that from the moment you sign up until you receive your prize, everything happens thanks to a smart contract on the ethereum blockchain. The fraud is over. We can't run away with your money because we don't have access to it. We cannot participate with an advantage because we do not know what the next question will be, it is decided randomly and automatically by the contract itself just before revealing it to the contestants. We cannot fix anything, because nothing and nobody can modify the blockchain.
Technologies used
:
Solidity
Metamask
Ganache
Javascript (jQuery & Bootstrap)
PHP
Linux systems
Non-sql databases (Couchdb)
Bitkwiz is a personal project, private and not yet finished. For security reasons, it is not accessible through the public internet network.